Products & Services
We offer our clients a suite for success.
Return to Products & Services page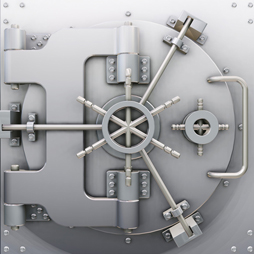 In today's fast paced, digital world we are faced with information overload. The challenge is to find just what you need, when you need it. The Vault is designed to do just that - your digital assets (images, documents, lists) appear in the right place at the right time allowing you and your organization to be more productive. The Vault integrates seamlessly with all of ColorQuick's services and facilitates many time and money saving conveniences.
For example, in Improv, our on-line document composition tool The Vault provides drag and drop placement of your digital assets plus allows for context sensitive filtering and automatic insertion of associated information, such as prices, headlines, captions, or disclaimers.
The Vault makes Workstream templates more flexible without appearing repetitive or needlessly restrictive by simultaneously supporting a wide range of graphic design and business process requirements. For instance just six Improv templates with 20 images could create 180 different postcards; assuming only one image is used on a card. The number gets much greater if two images are used.
Whether you are producing magazine ads in magSend, or running a print and direct mail campaign through Workstream, The Vault digital asset management system is there to back you up. On-line access to your high resolution resources, 100% RAID storage, offsite back-up, and a "never-delete" retention policy makes The Vault an indispensible part of your regular workflow, and greatly simplifies your data disaster planning and back-up.
Best of all, it is included and available in all ColorQuick workflows, at no extra cost, and without requiring any extra user steps. The Vault, just another way ColorQuick provides our users extraordinary service and value.
Security and Sharing
The Vault provides extremely tight security, while supporting a robust asset sharing model. For security, all assets are protected by design. In order to upload an asset, a user must first log into our system, and then upload their assets using a secure https connection. Every received file is immediately checked for viruses, and then indexed and placed into the user's account. All data is stored on RAID drives, so a single hardware failure will not cause a service interruption. This information is backed up every night, and offsite copies are maintained.
Just having safe data isn't enough, as it must be accessible for use by authorized parties, so ColorQuick provides a system to facilitate sharing your digital assets. You can share your pictures, lists and documents and other digital files with registered ColorQuick users, individuals by e-mail address, and groups by e-mail domain.